Dec. 15, 2022
Waffle towels have become a popular choice for many due to their luxurious blend of functionality and style. They are easily recognisable because of their honeycomb construction, with raised edges around each square giving the towel its eponymous waffle pattern.
The versatility of the waffle weave produces a towel that is perfect for bath and kitchen use. The lightweight fabric and quick drying properties make the waffle towel ideal for the kitchen and is often used as a dish towel to effectively absorb water. Rougher and larger gauge waffle weaves are also available, creating a more comfortable feel and texture to the towel, perfect for the more indulgent bathroom routine.
What are waffle towels made of?
Although waffle weave is most commonly used for kitchen and bathroom towels, it can also be used for dressing gowns. You may also notice the waffle weave used in luxury linen designs, often found in the edge details of duvet covers and pillowcases.
Waffle towels are usually made from cotton or microfibre and are woven on a loom. This makes waffle towels more durable than chemically made towels, so they tend to last longer. Bathrobes and waffle towels used in bathrooms are often made from cotton to create extra softness when drying. As kitchen waffle towels are mainly used for practical purposes, they can be made from cotton or microfibre.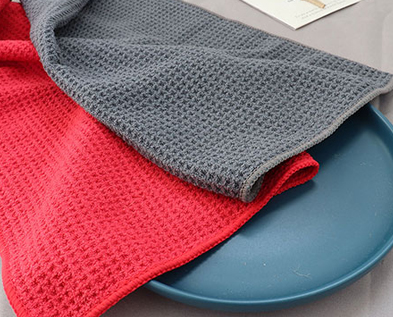 What are the benefits of waffle towels?
With their large surface area and innovative design, waffle towels absorb moisture quickly and efficiently and soak up any water or spills. The weave also provides effective airflow, which means they can dry faster and stay fresher for longer than other towels. This also prevents the towels from harbouring bacteria and unpleasant odours.
The construction of the waffle weave towels creates ridges in the design to collect food, dirt and other items that may stick to surfaces, tables or countertops.
The ridges formed in a waffle weave have many different benefits depending on their intended use. In bathroom towels, the convex ridges effectively exfoliate the skin while drying, leaving the skin feeling soft, smooth and ready to be moisturised.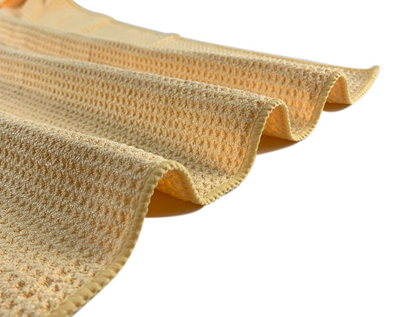 How to choose the best waffle towels?
Now that we've convinced you of the benefits of waffle towels, here are some tips on how to choose the right towels for your home.
Firstly, consider the fabric. Most waffle towels are made from cotton, linen or microfibre. If you are looking for an eco-friendly option, go for organic cotton or pure linen. The most environmentally friendly of the two is linen, as it uses fewer resources to grow and produce, is very durable and biodegradable. If using sustainable textiles is your priority, then linen waffle towels are the best choice.
Next, you need to consider the colour of your towels. Consider your current bathroom décor scheme and address this, or use a new set of waffle towels as an excuse to do some remodelling and change. Whether you want a minimalist neutral or a pop of bold colour, you'll find waffle towels in a variety of shades to suit every interior. At Changshu Power Clean, we offer one of the widest ranges of colours and patterns, making it even easier to find the perfect towel.
Finally, consider how you will use your towels. If they are intended purely for use at home or as a guest towel set, then the fabric is less important. But if you need something more versatile that you can throw in a gym bag or take to the beach, then linen is ideal. Linen is lightweight and much smaller than cotton, giving you more room to carry other items or just a smaller bag.
If you are buying a set of guest towels, we recommend purchasing two large linen bath towels and a matching hand towel. You can purchase them in sets here. Place these on the bed for visitors and you will instantly create a feeling of being at home.